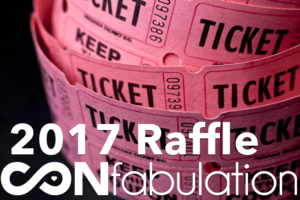 To continue a great fandom tradition, CONfab is excited to bring you our Charity Raffle. Each con we raffle donated prizes like books, clothing, art, jewelry, fandom items, and more! All donated items come from our generous con attendees and friends who support the charity.
Your registration comes with one raffle ticket! More tickets can be purchased at the registration table or from She!Sam. This year's raffle will occur after the Vid Show (on Saturday). Tickets are $1/ticket, and will be able to be purchased up until the start of the Vid Show. We have chosen Planned Parenthood of Western Pennsylvania as this year's charity. 100% of your donations, both monetary and items donated to the raffle, will benefit this awesome organization.
Have something you'd like to donate?  Let us know at raffle@confabcon.com! Or bring it to the convention with you. We'll be accepting donations in the Fandom Lounge once we open. If you know someone who has items to donate, please encourage them to contact us as well! Good luck!